Dr Chloe Asker (Post Doctoral Research Associate) reflects on methodologies in arts and health research that have become so important during the pandemic and shares some updates on the Culture Box project.
Introducing the Culture Box project
In recent years, there has been a growing interest in person-centred approaches to engage people with dementia in creative and art-based activities, such as dance, music, art, and poetry, to improve wellbeing, provide pleasure and enhance quality of life.[1] People with dementia were disproportionately affected by the pandemic, with the condition increasing the risk of mortality. In England and Wales, 25% of COVID-19 deaths were those with dementia, and half of all COVID deaths in care homes in England and Wales were people living with dementia.[2] The restrictions imposed by lockdown measures greatly affected lives in residency with a ban on family visits to care homes. This was coupled with requirements for residents to remain in their rooms due to staffing shortages. Suárez-González et al. (2020) describe the effects of this situation leading to 'confinement disease', as the 'effect of leaving people alone in their rooms due to staff shortages with no assistance for drinking and eating.'[3]They argue that this may have been more deleterious than the virus itself. 
Culture Box was created in response to the impacts of the pandemic and sought to alleviate some of the negative impacts on dementia patients, particularly the rates of social isolation and loneliness that have been heightened due to the lack of visits and confinement. Figures from Alzheimer's Society UK showed that 80% of 128 care homes reported that the lack of social contact is causing a deterioration in health and wellbeing for residents with dementia (Alzheimer's Society, 2020). Our project – Culture Box – designed and distributed pandemic guidance and creative activities to people with dementia in care homes, with a particular focus on the inclusion of BAME communities. The activities aimed to support the health and wellbeing of residents to alleviate social isolation and loneliness during the COVID-19 pandemic. Activities were a mixture of online and physical resources. Over the course of a year (December 2020-December 2021), a physical culture box was mailed out to the care homes each month, full of exciting activities and resources.
The Culture Box Research Team
The research team of 12 academics, practitioners, and producers is led by Professor Victoria Tischler, Associate Professor at the University of Exeter's European Centre for Environment and Human Health, her research focuses on creativity, mental health, and multi-sensory approaches to dementia care. Working with Victoria as co-investigator is Dr Hannah Zeilig. Hannah is a senior research fellow at the London College of Fashion, University of the Arts London, and her work specialises in arts and gerontology. Dr Julian West, of the Royal Academy of Music in London, works alongside Hannah as a co-investigator on the project. Culture Box also enrolled the help of practitioners and producers, including Dr Errol Francis, CEO of Culture&, an arts organisation that works to open up the arts and heritage sector to a more diverse workforce and audience. Additionally, we have recently welcomed a new member of the research team, Dr Chloe Asker – who has specialisms in participatory, creative, feminist and embodied approaches to research from her completed PhD research. They are working on the analysis of the interview and survey data along with supporting the organisation of the Culture Box Show.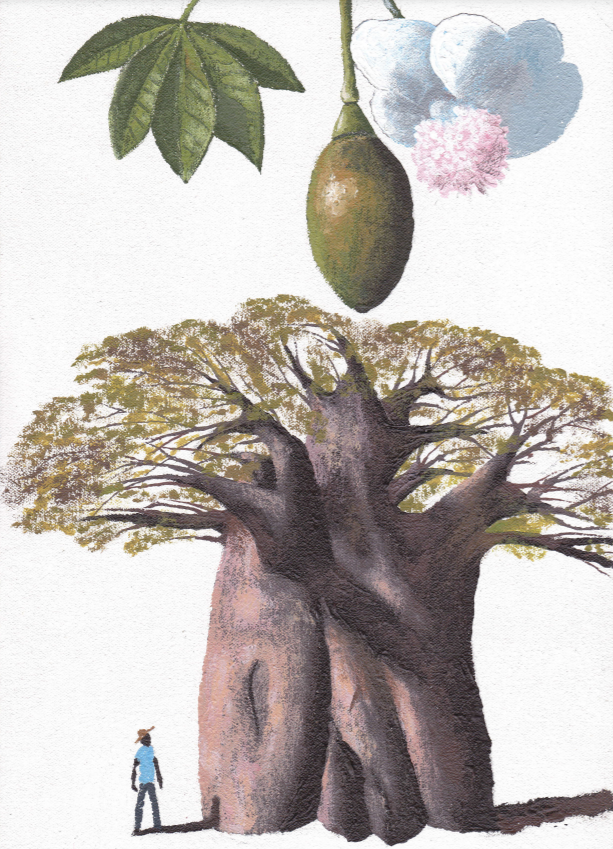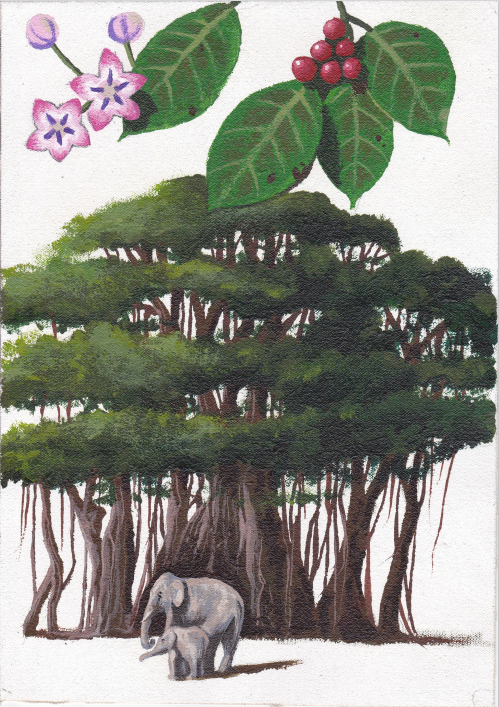 Artwork by Martin Jordan, commissioned by Culture Box for the monthly boxes during the project
The Culture Box Show
The Culture Box Show is a virtual interactive exhibition, with a programme of special artist commissions, and virtual and remote activities for people living with dementia in care homes and care staff. It is a hybrid programme, with the ability for people to experience it online as well as visiting the space. The show is participatory with the commissioned artists responding to the work done by the residents and care staff, it is intended to be an end-of-project event to celebrate the work undertaken during 2021.
The research team worked closely with Culture&, an independent arts and education charity, to put together a programme of special artist commissions, virtual, and remote activities for people living with dementia in care homes and care staff. The programme marks the end of the yearlong AHRC funded research project based at the University of Exeter.
Four artists have been commissioned to produce interactive and participatory work for the Culture Box Show.
"Bringing the Outside In" by Kate Munro
Kate's commission is inspired by the power of nature to improve wellbeing and a sense of connection. She is inviting residents to send her three names of their favourite flowers, which she will use to create a response from.
"Fold" by Helena Tomlin
FOLD will take the form of a series of rice paper artworks mounted on fabric and made using paint and printed collaged elements. They will be made so that they will be easy to display in the care homes. As part of the process of making this piece I will experiment with different types of folding, working with the materials to find the best way to reflect the concept of the Deleuzian fold as described above. I am interested in developing a 'performance' element in the viewing the work (the possible folding and unfolding of the pieces) as this is part of my response to respecting the complexities of memory. I will make the installation in my studio with careful instructions on how to assemble and display in the care home.
"Personal challenges of the pandemic" by IIrumva Isaac
Contemporary artist IIrumva Isaac, will explore the challenges a few of the many narratives of his community's mental health during yet another lockdown in Kigali, Rwanda. Cohabitating, sharing space, and things without the habitual 9-5 or spontaneous visit to a friend. the lockdown reshapes the relationships we have with our space, our belongings and housemates. Our mental states play a key role in the progression of our relationships, and so the progression of our lives.
In his attempt to bring people closer in times of ambiguous distancing; IIrumva compiled a few of his art pieces to touch on mental health as our bodies and minds adapt to lockdown, facemasks, remote work, and PCR tests among other things that came with this global pandemic. IIrumva lives in an urban neighbourhood right in the heart of Kigali, near the Kigali Convention Centre landmark, known as mu Rugando. Here he has observed the different ways in which the residents behave, which he is convinced everyone no matter where they live or where they are from must have in common. Exploring the theme of mental health, his intent is to create pieces that build up to an unveiling of mental health issues in his nuclear community.
"Mountains of the Mind" by Polly Townsend
Polly's commission takes inspiration from the quantitative data from the Culture Box survey at the beginning of the project. It is a participatory intervention that invites participants to imaginatively paint over her interpretation of the data, giving life, colour, and vitality to it. Her work is inspired by the beauty and awe of mountains – the data offering a way to visualise the topology of land masses.
The Show will be disseminated to participating care homes in boxes containing instructions, information, and the relevant materials. We look forward to sharing the work from the artists and participants!
Learning Lessons from COVID-19 Conference
In April 2022, the research team took part in 'Learning lessons from Covid-19: Hearing voices from multilingual cultural and vulnerable communities' conference at the School of Oriental and African Studies (SOAS) University, London. Victoria and Hannah, two lead academics on the project, presented a paper entitled "Culture Box: Lessons from a novel pandemic-responsive intervention for older people with dementia living in care homes". This focused on the lessons learnt from undertaking the project, including reflections on ethics, the methodological approach, and preliminary research findings from the T1 survey data and interviews.
Hannah provided some reflections on the conference, noting the audience enthusiasm for the piece, Hello Love by Akeim Toussaint Buck:

The paper was well received by the conference delegates. In particular, the inclusion of Akeim's film was appreciated and livened up the morning session. Akeim's music and movement contrasted with other presentations and provided another example of how the 'arts' can communicate well across a range of audiences and environments.
Victoria and I were both interested in other presentations from around the world about how covid-19 has been experienced, it was great to understand our own work within a much wider context.
The conference also made Victoria reflect on the vulnerable nature of care home staff during the pandemic, and during this project. Experiences of staff vulnerability, stress, and anxiety are present in the interview data. Thus, more attention needs to be paid to the vulnerable and precarious position of care home staff during COVID-19. This issue is discussed in depth in Masterson-Algar et al.'s (2022) article on the impact of the pandemic on care and quality of life of people with dementia and their carers. Their scoping review points to the high levels of stress, exhaustion, burden, and isolation experienced by carers.
Next stage: the T4 Survey
The team have recently launched the final project survey to residents and care staff. The survey asks questions about the participants' overall reception of the project and seeks to understand whether there was improvement in residents' wellbeing since taking part in the project.
The survey will close in mid-May and the research team look forward to receiving some more data on outcomes of the project and feedback!
We would love to hear from you! You can contact us on culturebox@exeter.ac.uk or to talk further to Dr Chloe Asker about their work, please email: c.asker2@exeter.ac.uk. Our website also has regular blog posts and further information: https://www.cultureboxstudy.org/
[1] Bellass S, Balmer A, May V, et al. Broadening the debate on creativity and dementia: A critical approach. Dementia. 2019;18(7-8):2799-2820. doi:10.1177/1471301218760906
[2] Suarez-Gonzalez A (2020) Detrimental effects of confinement and isolation in the cognitive and psychological health of people living with dementia during COVID-19: emerging evidence. LTCcovid, International Long-Term Care Policy Network, CPEC-LSE, 23 June 2020.  Available: https://ltccovid.org/wp-content/uploads/2020/07/LTCcovid-1-July-Detrimental-effects-confinement-on-people-with-dementia.pdf
[3] Ibid., 12.
---